Advertise at CSMTA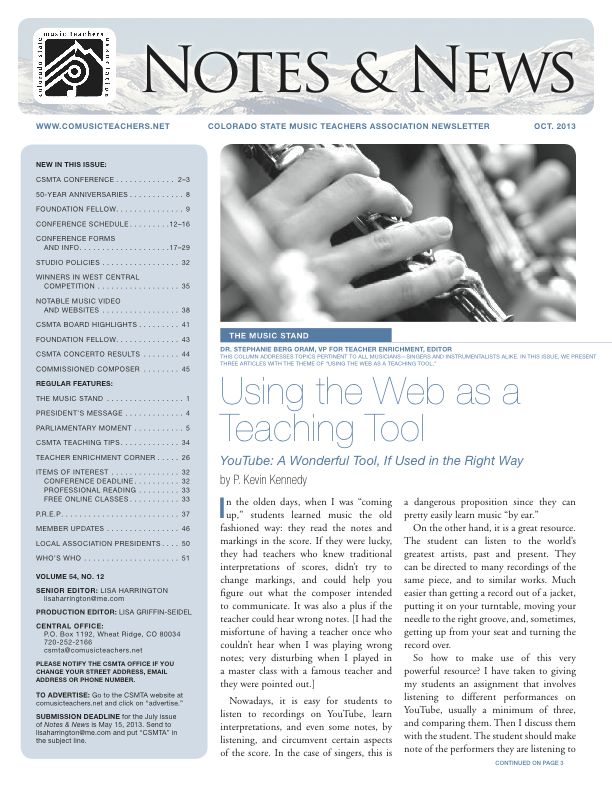 The Colorado Music Teachers Association has a membership of 700+ independent music teachers throughout the state of Colorado. Many of these teachers own private music studios where they teach children, teenagers and adults.
We offer competitive rates to advertise in different formats and venues.
Mailing labels
Physical mailing labels of our current membership list are available for purchase by music organizations.  To request mailing labels, email us at CSMTA@comusicteachers.net
Ads in publications
Notes & News. The quarterly newsletter that all members receive. Most members receive an electronic version in color. About 150 members receive a hard copy in black and white. This publication contains approximately 30 pages
Conference booklet. The annual state conference is held in different parts of the state in June. Approximately 150-200 members attend. The conference booklet is a black and white publication that contains exhibit and session information.
Rising Stars program. This is the state competition program. Approximately 150 students participate. The program is viewed by parents, students and teachers during the Rising Stars Festival, in April every year.
Student Activity Handbook. An annual publication with the Rules and Tools of CSTMA. Black and white.
We accept credit card payments via PayPal invoices. For printed advertisement information contact Dr. Lucy Tan, CSMTA Advertising Chair, at (978) 761-0235, lwtan516@gmail.com
Pricing for different publications and sizes
Online advertisement order forms
Click on the links below to order your ads:
Booth and/or showcase presentation at annual conference
Additionally, consider buying a booth at the exhibit hall and/or a showcase presentation during our annual conference.